Dezmon (Decentralised monetary incentives for energy saving)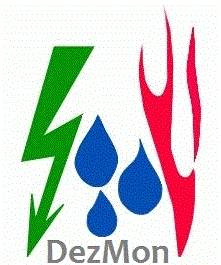 The Dezmon project (Decentralised monetary incentives for energy saving) was launched in 2007. Since then, it has been gradually developed further until 2018. In 2018 the project was suspended for financial reasons.
The basic aim of the project was to reduce energy consumption in the participating buildings through financial inventives. The savings were to be achieved primarily through changes in user behaviour, supported by low-investment measures. The users know "their" respective building, the local structures and large energy consumers best. In this way, weak spots could be eliminated in a targeted manner and a lower level of consumption could be ensured in the long term. This energy saving was financially reimbursed to the user.
The project ran in cycles of about 3 years each. In the first cycle 2 pilot institutes were involved:
- Main Street 1 / Biology I
- Engelberger Straße 41: Main building and lecture hall building / Psychology
Both institutions were able to achieve noticeable savings. For this reason the project was extended to 8 buildings in 2010. Thus, in addition to the 2 original pilots, 14 new participants were active as well:
- Hermann-Staudinger House / Macrochemistry
- KGIV / Sociology, history, English language and literature, scientific policy, library
- Gustav-Mie-Haus / Physics
- Western building / Physics
- Otto Krayer House / Pharmacy, Pharmacology
- Rectorate / ZV, Archaeology, Hydrology
- Werthmannstr. 4 u 6 / Geography
- Sports Centre / Sports Science
In the last cycle from 2014, energy consumption was reduced in another 7 buildings within the framework of DezMon:
- Schänzlestraße 1 / Biology II/III
- Access building
- Campus Airport: Geb. 101, 102, 103, 104, 106 / Faculty of Technology
On average, the buildings achieved savings compared to the reference values of 11% for electricity, 14% for heating and 2% for water.
Within the DezMon project, bonuses were awarded to the participating institutes every year. The bonuses were freely available, but were also used by the institutes for further savings measures. This is how energy savings were promoted every year through financial incentives.
The employees and students of the participating institutes were able to demonstrate great success in energy saving. The savings over the entire duration of the project amount to about 5,700 MWh of electricity, about 12,600 MWh of heat and about 24.5 thousand m³ of water. DezMon prevented the emission of about 4 thousand tons of CO2 over the entire duration of the project. In addition to the savings in electricity, heat, water and cooling consumption, the topic of energy consumption and sustainability was also integrated into the everyday work of the participating institutes.