Projects of the Working Group Sustainable University
News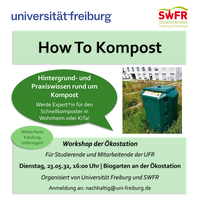 Composting workshop on the 23 May at 4pm at the Ökostation
The workshop "How To Compost" will take place on 23.05. at 4 pm (approx. 1 hour) in the bio garden at the Ökostation. A composting pilot project was conducted as part of the waste reduction ideas competition and student project ideas. Composters are currently located at the student dormitories at the technical faculty, at Herderbau and at the university daycare center. Volunteers to use and supervise the composters are welcome!
---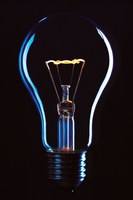 Take part in the Energy Efficiency Contest
In the face of current challenges, solutions for efficient, conscious use of energy are more needed than ever. The Sustainable Working Group (AKNU) is therefore looking for effective concepts and projects to improve energy use in the operations of the University of Freiburg.
Submit a project description of maximum two pages of your proposed energy saving measures and receive funding of up to €15,000 for their implementation. Applications in English are welcome.
---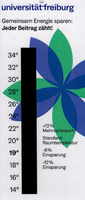 Energy-saving thermometers for all employees
The University of Freiburg distributes energy-saving thermometers to all employees. One degree lower room temperature saves around 6 % energy. Individual action thus makes a big difference and contributes substantially to the success of the joint energy-saving measures, especially in terms of sustainability. The thermometers will be distributed through the university mail to all university departments. 
---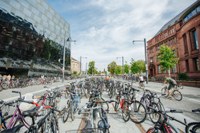 Results from the mobility survey for employees 2021
We would like to sincerely thank all participants in the mobility survey (July to September 2021)!
We are very pleased that so many university employees participated. In total, the 1424 participants*, which represents more than 20% of all employees, provided useful insights into their mobility behavior and shared their wishes from the university, especially with regard to sustainable mobility. The results can be found here.
---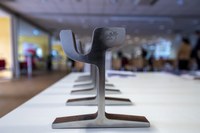 The University of Freiburg receives the MobilSiegel for sustainable mobility
The University of Freiburg was awarded with the mobility seal "MobilSiegel" for sustainable mobility. The MobilSiegel is awarded for the first time this year by the Freiburg Transport Group ( VAG) on behalf of the city of Freiburg and in cooperation with the districts of Emmendingen and Breisgau-Hochschwarzwald. This seal is awarded to companies and institutions that are committed to sustainable mobility and actively support their employees in going to work in an environmentally-friendly manner.
---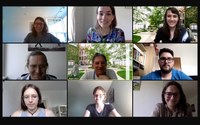 Sustainability at the University of Freiburg: From the Idea Contest to the Pilot Composting Project 
The digital workshop on Sustainability at the University of Freiburg: From the Idea Contest to the Pilot Composting Project took place on June 10. As part of the waste prevention idea contest and based on the ideas from students, the Department of  Safety, Environment and Sustainability (SUN2) at the University of Freiburg and the Studierendenwerk Freiburg (SWFR) are launching a pilot project for composting on campus and on the grounds of the student dormitories.
---