Energy Saving Tipps
The responsible use of our available resources is an effective way to protect the environment. Energy saving and sustainability only work hand-in-hand. It all depends on each individual's contribution to achieve the goals together.
Considering the current energy crisis, the new regulation "Verordnung zur Sicherung der Energieversorgung über kurzfristig wirksame Maßnahmen" has been in force since 01.09.2022, and the university is implementing many other energy-saving measures in research and its operations.
The media center of the university has produced in cooperation with the Sustainable Working Group the first video of the video series about energy saving in German. 
The individual contribution of every single one of us is essential for saving energy together. For example, the following measures are recommended: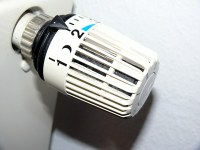 Thermostatic valves: When you start the working day, set the thermostatic valve on the radiator so that the room temperature reaches 19°C (level 2-3 is often sufficient). At the end of the work day and especially before longer absences (weekends, holidays or home office), turn the heating 

1-2 levels 

down.
Ventilate: Please avoid prolonged tilted-window ventilation. This is not very effective and leads to high energy losses. We recommend regular cross ventilation for a few minutes
Lights: Please use 

preferably 

daylight . Avoid artificial lighting as far as possible. Please switch off the light when leaving the room.
Electrical devices: Avoid stand-by mode, especially of appliances such as printers, monitors, scanners, coffee machines, microwaves, etc. Please switch off these devices.
Refrigerators/freezers: Reduce the use of refrigerators and freezers and keep their number to a minimum by sharing them. Please defrost freezers regularly.
Stairs instead of lift: If possible, use the stairs and avoid the lift.
Heating - The right twist!
Current advice Winter 2022/23: Use a thermometer to set the room temperature to ideally 19°C. If your heating is centrally controlled and the temperature is significantly higher, contact the Technical Building Management (TGM).
How to handle the thermostatic valve?  To regulate the room temperature, when arriving at work, adjust the thermostatic valve to maximum level 3 or so that 19°C is reached. Check it with a room thermometer. Every 1°C less room temperature saves about 6% in heating energy and costs! At the end of the working day and before weekends, turn down the heating by 1-2 stages or to the night setback (moon symbol). Gradually test whether lowering to frost protection * before a longer absence (weekend, holiday or home office) is tolerable for you afterwards.
Is heating not necessary? Set to frost protection, lock valve (if possible). This is not suitable for permanently-used workplaces.
Are there any additional heating devices? Remove devices. The operation of additional heating devices (fan heaters, heating mats) is generally prohibited due to fire protection and energy consumption reasons.
Is the room temperature too low? Make sure that the windows and doors are closed (remove locking devices if necessary). Ventilate properly (see Ventilation). Check the seal on windows and under the door for draughts. Check whether the cooling system is switched off in winter. Contact the TGM if the cold persists.
Are there curtains, blinds or something similar? In winter, close at the end of working hours (insulation).
Are there radiators in the direct proximity to outside doors? Set to frost protection, lock valve (if possible).
Are radiators obstructed by furniture or behind panelling? Change the furniture, remove the panelling if possible. For the thermostatic valve to regulate the temperature correctly, the air in the room must be able to flow around it.
Are old radiator valves still present or are thermostatic valves defective? Apply to TGM for replacement (presettable, lockable; complies with Energy Saving Ordinance).
Is there air in the radiator? Have the radiator vented by TGM staff.
Ventilate - cross instead of tilt ventilation!
Are the windows permanently tilted? Close the windows and carry out targeted cross intense ventilation while the thermostat valves are turned to the lowest setting. Here are graphics and a video that clearly show the effect of cross ventilation versus tilted-window ventilation.
Are there open windows in unused rooms? Close them and check them more often.
Air conditioning - as much as necessary, as little as possible!
Note: To save energy in air-conditioning rooms, a wider range of indoor temperatures is possible (19-26°C). Here it is up to everyone to develop greater resilience to deal with these temperature differences.
Are windows or doors open? Please keep both always closed while the air conditioning is in operation.
What temperature is set? Only set the necessary room temperature, never cool rooms down too much.
Does the area need to be cooled for 24 hours? If not, switch off cooling after the end of the work/experiment or, if more effective, set to a higher temperature. Switch off cooling in winter.
Are the automatic blinds properly controlled in summer? Ensure early shading. If available, please activate the automated up and down of the blinds in summer to save energy for cooling.
Is an area getting too cold or is the thermostat not working? Please report to the TGM as soon as possible.
Electronic devices – Simply switch off!
Are electrical devices in operation even though they are not being used (standby)? Switch off devices, pull out the power plug or get a switchable power strip and set the switch to "off". You can find more information on ordering switchable power strips  here.
Hibernation instead of screen saver! Screen savers on the PC prevent standby mode and consume a lot of electricity. For shorter breaks, use the standby mode or better the hibernation mode on the PC (switch on after approx. 10 minutes). Before longer breaks, switch off the devices that are not being used.
Is the dishwasher being used optimally? Load the dishwasher optimally and use the most economical programme if it uses less electricity and water

 (check the instruction manual)

. 
Lights – LEDs and daylight! 
Are incandescent lamps present? Replace with LEDs (TGM).
Is the lighting in unused rooms switched on? Switch off the lighting. Possibly apply for motion detectors (WC, corridors).
Can light strips in group rooms be switched separately (window/wall side)? Mark light switches.
Is the lighting switched on when there is sufficient daylight? Switch off lighting.
Are the reflectors or covers dirty? Clean reflectors or covers.
Are curtains, blinds, shades closed and the light on? Open them, if possible without glare. Have defective blinds replaced.
Is the outdoor lighting in operation unnecessarily? Change switching times in consultation with the TGM, possibly install motion detectors.
Cold water consumption - Do not let it run!
Are water-saving fittings available? Have flow regulators or water-saving shower heads installed (TGM).
Are taps dripping? Report to TGM for repair. One drop per second results in approx. 6000 litres per year, with additional heat losses of approx. 280 kWh for hot water.
Is the toilet flushing? Have the toilet flush repaired by TGM. A continuous trickle corresponds to losses of 20 l/h or 180 m3/a.
Digital work
Energy consumption in digital work is complex and depends on many factors. You can find more information on facts & figures here.
Spam filter prevents opening and loading of unnecessary mails
Permanently delete old emails and previous mail histories (also trash).
Only necessary recipients in CC, small attachments
Platform/cloud instead of email attachment, link instead of pdf
Save frequently visited pages and enter address directly in URL bar
Only switch on video during video conferences if necessary
After-work routine - workspace in sleep
Switch off the lights when leaving the office, this is worthwhile even for short absences
Switch off the PC (incl. screen/printer) in the evening and completely disconnect it from the mains with the help of power strips (35% of electricity consumption in offices is due to PCs)
Set the heating to max. 2 in the evening or lower it at night (moon symbol)