The University of Freiburg goes electric
Replacing combustion vehicles with e-mobility is an important step towards reaching climate neutrality and is mentioned as a key measure in the university's mobility concept, which is currently in development.
The university has therefore replaced three diesel-powered service vehicles with electric ones in 2021: The electric sweeper is now powered by green electricity and the Institute of Hydrology has received a new electric van to replace its station wagon. In addition, a new electric small truck was purchased in 2021 for the housekeeping service in Institutsviertel. As a result, the service vehicle fleet consists currently of 22 diesel vehicles as well as two hybrid and three electric vehicles.
E-truck for the Institute of Hydrology
with Ruth Stephan, PhD student of the Chair of Environmental Hydrosystems

E-truck of the house service in the institute quarter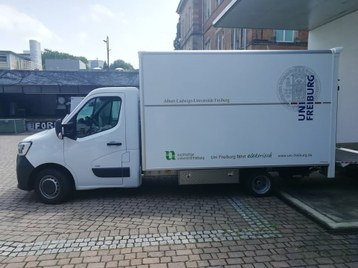 Electric sweeper in Institutsviertel