European Week of Waste Reduction 2019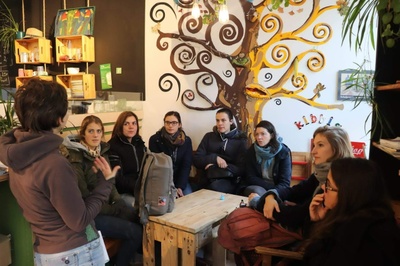 Students of the International Master's in Environmental Governance at the University of Freiburg organised the first European Week of Waste Reduction in Freiburg from 16 to 22 November 2019 with the support of the Department of Environmental Protection.
In November 2019, the ninth European Week of Waste Reduction  (EWWR) took place from 16th to 24th November 2019 throughout Germany, 33 European countries and neighbouring countries. EWWR is Europe's largest communication campaign on waste prevention and reuse.
In Freiburg this week there were also a number of events, workshops and discussions on the topic of waste. As a an opening on 16. November, the team showed the film "Microplastic Madness" at the Greenmotion Film Festival. Interested people learned more about the processes of a student canteen kitchen and the efforts to avoid waste during a guided tour through the canteen. There were guided tours through the packaging-free supermarket Glaskiste and through the Freiburg biogas plant. Participants were able to learn through interactive lectures on electrical waste and creative methods of solving waste problems from experts in the field 
Speakers were:
- Klaus Müllenschläder from the Süddeutsche Recycling GmbH
- Martin Quernheim from Cradle to Cradle e.V.
- Lisa Schairer - shop Glaskiste
- Ulrich Stelter and Cynthia Zathcha from SWRK
- Martin Held - Reterra: Guided tour through the biogas plant