Sustainability Days 2020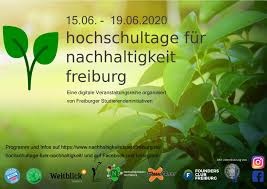 The Sustainability Days took place digitally from 15 - 19 June 2020. They were organised by different student initiatives in Freiburg and supported by the Sustainable University Work Group. Further information about the 15 lectures, workshops and events can be found here.
The topic of one of the discussion events was the emissions caused by business trips and what possibilities there are to reduce them at the University of Freiburg. Dr. Sebastian Jäckle presented his research on the carbon footprint of scientific conferences and also spoke from the perspective of the Scientists for Future's Freiburg. Lora Gyuzeleva focused on the University's attempts to concretely assess its emissions through business trips and the discussions on different reduction measures.