Festival of Action in Freiburg (17-18 June)
Join hundreds of like-minded people to develop projects and solutions that will aid us achieve the 17 Sustainable Development Goals in Germany!
This year the Festival of Action will take place in Freiburg at the Europa Park Stadium on June 17-18. This is an event where young people come together to develop ideas and projects for a more sustainable world. The event aims to make the 17 Sustainable Development Goals more accessible to young people. At the Festival of Action, they try to come up with ideas and solutions to achieve the 17 goals. The Festival of Action is organized by Engagement Global. This initiative is commissioned by the German Federal Ministry for Economic Cooperation and Development and cooperates for the Festival of Action in Freiburg with the University of Feriburg and the City of Freiburg. The event will take place in German but English speakers are welcome to develop their ideas in English and present them in English at the end of the event. 
Participants

The event is open to high-school students, university students, aprentices and young professionals between the ages of 18 and 35, and the registration is free. 
We are also looking for Team Leads and older Mentors to set challenges, accompany projects and give feedback.
Team Leads
The Team Leads will be trained in creative methods by experts on a separate day before the event. During the festival, they are responsible for the methodical and technical cooperation of the team and will receive a certificate of their commitment afterwards.
Mentors

Mentors are also sought and employees are welcome to participate. Mentors submit topics that correspond to the 17 Sustainable Development Goals. They participate in the festival by providing feedback on the presentations of their challenge results. The mentors support and advise the participants during the presentations of the ideas and at best during the specific implementation of the idea or project. Mentors are welcome to submit their ideas in English if they want to.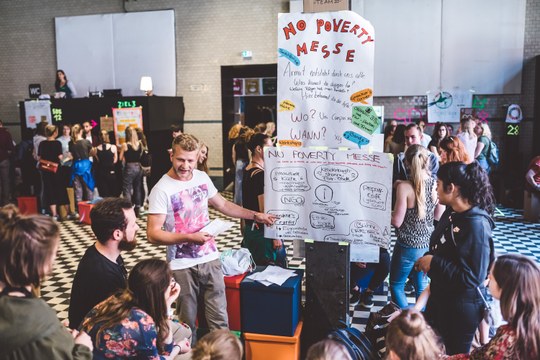 Photos: Festival of Action in Berlin 2019, Engagement Global/ Frederik Schramm