Mobility survey for university employees
The Sustainable University Working Group is conducting a mobility survey for which we would like to ask for your support. The aim of the online questionnaire, which is to be completed anonymously, is to better understand your current mobility behaviour when travelling to and from work, as well as to record your mobility-related wishes and suggestions to develop targeted measures.
Independently of the survey, we will raffle off the following among all participants:
5x2 combination tickets for a cable car ride + breakfast on the Schauinsland and
30 water bottles made of bio-based plastic, obtained from sugar cane.
As we depend on the feedback of as many employees as possible, we ask you to answer the questionnaire available at the following link (duration 10-15 min, to be filled out anonymously): https://intranet.uni-freiburg.de/mobilitaetsumfrage
Unfortunately due to technical and organisational problems it was not possible to publish the mobility survey in Intranet in English. For this reason a translation of the survey can be found here. We apologise for the inconvenience and hope that these translations would enable you to fill out the survey and take part in the prize game. 
Please note that the first questions refer to your mobility behaviour before the Corona pandemic (i.e. in 2019). After that, there are specific questions related to your mobility since the pandemic. The survey is aimed at university employees (excluding HiWis) and will run until 15.09. 2021.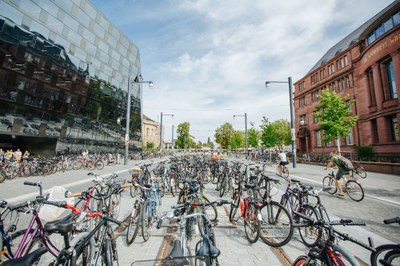 Bild: Sandra Meyndt