Measures for sustainable mobility
The Sustainable University Working Group is intensively engaged in the topic of mobility.
Mobility Survey
In 2021 a mobility survey fgor employees was conducted. We are very pleased that so many university employees participated. In total, the 1424 participants*, which represents more than 20% of all employees, provided useful insights into their mobility behavior and shared their wishes from the university, especially with regard to sustainable mobility. The full results can be found here.
Parking management
Since 2021 all parking places at the university are managed by the Parkraumbewirtschaftung Baden-Württemberg (PBW).
New bike stands
At the University Library  and in the vicinity of the collegiate buildings I, II, III and IV (KG's) new bicycle stands were built in 2020. At the University Library, the 156 temporary bike racks were replaced by 250 permanently installed stands. This means that there are now bike stands for a total of 900 bicycles.
New bicycle repair station
Another bicycle repair station was installed in 2020 at the Physics building. Currently there are three bicycle repair stations at the Faculty of Technology, Biology and the Physics building.. Each station has an air pump and contains most of the everyday tools to get the bike back in shape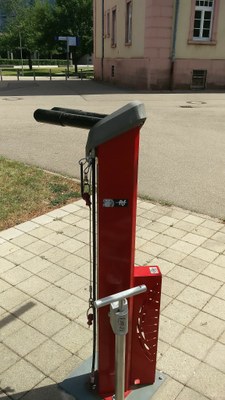 .
 Foto: Bike repair station at the Technical Faculty, Alexander Henkel